Players: Tributes:
Wilf Rostron

"What a play-uh"
By Matt Rowson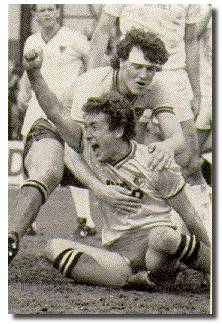 It's 1993. I'm in holiday in the South of France with my University friend Andy and a load of his Brummie mates... my first (and last) "lad's drinking holiday". Mark O'Malley, in possibly his first sober moment since we left Birmingham, sits down with me for the obligatory Football Conversation. On hearing the word Watford he turns to me, eyes shining (through the hangover) with a retort that will live with me for ever.
"Awwww.... Wilf Rostron. What a play-uh".
Expecting a gleeful tale of Rostron inflicting some terrible misery on Birmingham City which had somehow passed me by, I pursued the comment but there was no such tale. Rostron was a super player and a great character to an extent which had clearly transgressed the club-to-club divide... it was as simple as that.
Rostron began his career at Highbury, but after a handful of games joined Sunderland, from whom Watford signed him for £150,000 in 1979. He was signed as a winger, but in January 1982 was tried at left back - he went on to make the number three shirt his own for six years.
Players enter folklore either through exceptional ability or exceptional commitment. Wilfy had bucketloads of both. An outstanding defender, he was also an attacking threat; I remember a bemused Rochdale manager after a League Cup tie in the mid-eighties admitting that, having planned to cope with the likes of Barnes and Blissett, he had had to completely rearrange his side mid-game to attempt to contain "the Rostron problem".
The abiding memory of Wilfy will be of him launching himself fearlessly at the ball, headfirst if necessary. High-points of his Watford career must include the two goals against Levski Sofia in the UEFA Cup of 1984... low point the dismissal by celebrity referee Roger Milford which caused him to miss the Cup Final the same year. The sight of him trudging around the perimeter in a tracksuit still brings a lump to the throat.
Four years later he was the spark for another piece of Watford history. With Dave Bassett as manager, the Hornets played Hull City at Vicarage Road in the third round of the Cup. With the tie going against the Hornets, Bassett pulled off Rostron, the one player who had shown unwavering commitment to the cause. The home crowd, at the time blissfully unaccustomed to having to vent disapproval of the management, finally rose as one (including, incidentally, my seven-year-old brother on his Vicarage Road debut) and condemned the man who was to resign days later.
Rostron finally left Vicarage Road in 1989, and had a successful couple of years in Sheffield for first Wednesday then United. From there he moved to Brentford where he retired in 1993 at the age of 37. He is by some margin the best full-back I've seen wear a yellow shirt and the only real contender for the number three in an all-time Watford side.
Or as Mark so succinctly put it, "What a play-uh".