Players: Tributes:
Wilf Rostron

"Gifted"
By Ian Grant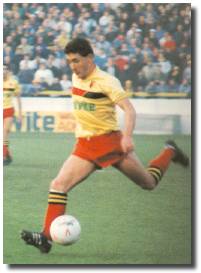 It's weird the way that football restricts the English language, turning gleaming words into dull clichés. "Gifted", for example. Forever used to describe the gloriously talented maverick, the player whose skills seem so unearthly as he mesmerises defenders.
Not, the football cliché rulebook dictates, to be used to describe Wilf Rostron. And that's an injustice because Rostron was as gifted a player as I've ever seen. Not blessed with sublime skill, perhaps, but we all know that there's more to the game than that.
A team requires more than eleven individuals. It needs players who'll submit themselves totally to the cause, players whose selfless input makes that team so much more than the sum of its parts. No ego. They're rarer than you might think.
Wilf Rostron was one. A footballer of feverish commitment and unflinching leadership, coupled with modesty and tranquility. He was there throughout the glory years - ever-present in the first Division One campaign, earning the captaincy for the home tie against Kaiserslautern, winning 'Player Of The Season' in that and the following year, still a part of the side that beat Arsenal at Highbury in 1987. A heroic footballer, whose mood was so unshakeable that his wife would have no clue as to how he'd played when he returned home from a match.
There's a truism that claims that Graham Taylor took a side of affordable journeymen to the First Division and Europe. Nonsense. He signed players whose qualities had gone unharvested at other clubs - they were outstanding footballers but outstanding in ways that didn't demand eulogies in newspaper columns or drooling from sheepskin-coated managers.
You shouldn't have to demand praise to receive it. You shouldn't - and don't - have to be flamboyant and arrogant to be remembered as a magnificent player. Wilf Rostron was a magnificent player.