Players: Tributes:
Andy Rankin

"Goalkeepers are different"
By Kevin Birdseye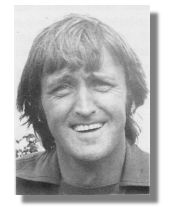 Some say that you're not a true fan of your club until you've seen 'em play away. By that token, I became a 'proper' Watford fan at the most illogical of times: season 71/72, away to Charlton to be precise. Lost two-nil. During the mother, father, grandma and granddad of all relegation seasons. To say we were not very good is to say that Moscow in January is no more than a bit on the cool side.
However, I suspect this singular decision to shack up with the 'Orns and swim against the tide of Arsenal, Chelsea and co. in the playground of Parkgate JMI, North Watford, had everything to do with the fact that I was already seen as something of an "individual" at school.
Unsurprisingly, this character trait also manifested itself on the footie pitch. You see, the Barry Endeans and Ronnie Wiggs back then were all well and good. Glamorous, even. In football terms, however, I only had eyes for the seductive, lush green worn by The Last Line Of Defence.
So while my herd-following class chums grazed on interviews in Goal! magazine with London Flash Harry's like (chortle!) Peter Marinello and (yawn!) Peter Osgood, I was tucking into more highbrow fare ... in the form of Brian Glanville's top footie novel, "Goalkeepers Are Different".
I was an aspiring keeper, I was gonna play for Watford. This book was my bible.
Now as a kid of eight in '71, I had not the faintest idea what a Division One cast-off was. So I hailed the signing in November '71 of ANDY RANKIN as proof of how my Golden Boys meant serious business.
The Evening Echo proudly trumpeted the fact that our new goalie had cost us twelve grand (woooooooo!) from posh nobs Everton, where he'd already made eighty-odd appearances AND won international honours! These were seriously alluring stats for an aspiring Pat Jennings to chew on. By the end of the piece, I was smitten.
Even better, the accompanying picture showed that Andy Rankin had sideburns which simply oozed class. He was hip and trendy in a way that the man he replaced - the no-frills, crew-cutted Mike Walker - could never hope to be. Walker's sad attempts to ape his successor's cred by growing a comedy moustache and letting his hair down an extra inch or two failed to move me (or, slightly more crucially, the Watford manager).
Alas, I was too young to see that those first-team outings for the Toffees, which had actually been spread over some TEN years as a pro, were more the stuff of an "almost, but not quite" player.
Nor did it register then that there are international honours (Barnes bamboozling the Brazilians) and "international" honours (Rankin's moment had come in an U-23 appearance against, erm, "Way-ulls").
None of this logic permeated my pea-brain. Au contraire: I even saw Rankin as displacing ANOTHER international 'keeper (Walker had also won an U-23 international cap .... but playing FOR "Way-ulls", like).
With classic child delusion, I even reasoned that a top talent like Rankin would instil fresh heart within our shell-shocked defence and herald a charge back up the Div 2 table! My dear father just smiled and shook his head ...
Sure enough, Andy Rankin made his debut in the second of two back-to-back home wins, versus Burnley (the first having been a week earlier, against Our Dear Friends from Sarf Beds). Believe it or not, these two games made up forty per cent of our total league wins that pitiful season.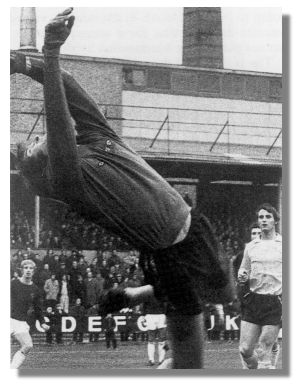 As it happens, there's a picture of Andy Rankin from that debut match on page 191 of the Watford Centenary Book. It's classic Rankin: flying through the air (sort of), at full stretch, head arched back, having seemingly tipped a vicious shot or bullet header to safety ....
.... Or - as was more likely to be the case then - head arched back, watching the net bulge.
Basically, Andy Rankin, cool sideburns included, had as much chance of arresting our slide to inevitable relegation as George Kirby had of scooping a Manager of the Month award that miserable year.
Yet that photo of Rankin is quintessentially he; so utterly as I remember him. You see, to a boy like me, he always seemed to dive so beautifully. And if diving were (deep breath) "the one and only sweep of the brush on the canvas of the goalkeeper's art", Andy R would have made the full England side. Let there be no doubt about it!
Whenever the Watford net did bulge (as it tended to rather a lot), my young, star-struck, hero-worshipping eyes always concluded that the opposition had needed a wonder strike, or had resorted to more devious forms of trickery, to beat him.
Sadly, no amount of Rankin heroics could stop Watford as we nose-dived on our Voyage To The Bottom Of The League come September '75.
During this mundane era, when bright Hornet prospects regularly vanished for relative peanuts so that our tight-fisted chairman of the day could keep the lid on his biscuit tin, Andy Rankin stood as tall and as proud as a lighthouse in a sea of golden .... effluent.
We were more rubbish than Watneys Red Barrel. Which makes Andy Rankin's grip on the number one jersey throughout this period all the more remarkable. Heck, he was twice voted Player of the Season (in 73 and 75), so my recollections of him obviously aren't all deluded hallucinations glimpsed through a shower of nostalgic, boyhood glitter. Andy Rankin really was good, you see! Mister Consistency? You betcha!
I therefore viewed it as a foul criminal act when he lost his place to Steve Sherwood in Mike Keen's final season, 76/77. Sherwood then had the brass neck to keep Rankin out after GT's arrival. Disgraceful, I screamed! Sherwood can't dive! Anyone can see that!
But then back roared AR to reclaim what I saw as his by divine right in December '77, and we coasted our way to the Div 4 title.
The next season, Rankin again provided two thick slices of solid comfort around another indigestible Sherwood sandwich filling, as he returned to soothe our Div 3 promotion jitters during the critical run-in.
The writing was on the wall, however. GT's policy of not having an undisputed number one benefited neither Rankin nor Sherwood. Worse, my hero was starting to look somewhat less than agile on occasion.
So when, in '79, life back in the old Division 2 began trickily, a singularly unimpressed GT splashed out one hundred grand on a new keeper: the smarmy-looking (to my eyes, at any rate) Eric Steele.
My unsung all-time Hornet hero's last appearance for Watford had come in an unsung sort of match: a 3-0 gubbing at Wrexham. Lowly Huddersfield took him on loan, then signed him on a free in January 1980.
I was seventeen by then. My Hornet hero had taken me right through my childhood: from Subbuteo to snogging; from cans of shandy outside Mister B's on St Albans Road to my first illicit beers, consumed furtively a few yards up the road at The Hertfordshire Arms.
Now, like my childhood itself, my hero was gone with indecent haste. Such is the way with football.
But let's not finish on a downbeat note! Andy Rankin's finest moment? No contest. Man Utd away in the League Cup in 78/79. A game remembered by most for young Luther's two wonder strikes. But not by us associate members of the Watford goalkeeping fraternity. We'll always treasure it more for Rankin's sensational fingertip save from Gordon (is a moron!) McQueen's bullet header near the death, as we clung desperately to our 2-1 advantage.
I can still see him now: at full stretch as ever, flying through the air, head arched back after getting the faintest of fingertips to the ball. Only this time the net wasn't bulging. Andy Rankin, journeyman goalkeeper, boyhood Hornet hero, with a little bit of help from the crossbar, had saved the day and earned his moment of televised glory. And richly deserved it was, too.
I don't dispute that Watford have had better keepers (Jennings, Coton). Then again, there have been plenty far worse than my Hornet hero during my time as a supporter (P. Digweed, B. Slater, T. Meola, M. Dalrymple, P. Gibbs).
Andy Rankin was neither great nor grim. Ultimately, he'll be remembered simply as one of the many in the supporting cast that took us under Sir Graham of Taylor's first reign from greyhound track to glory days; from down among soccer's dead men to a lofty place in the Sun (and the Mirror, the Star, the Mail, the Express....).
But he'll always mean so much more than that to me.
Like a BBC kids' programme from that era, in which Emily loved her battered old Bagpuss, so I truly worshipped the penalty area walked upon by (altogether now): "Andy, Andy Rankin (clap-clap)" ... (repeat to fade...).
My all-time Hornet hero. End of story.