Players: Tributes:
John McClelland

"A completely different dimension"
By Matt Rowson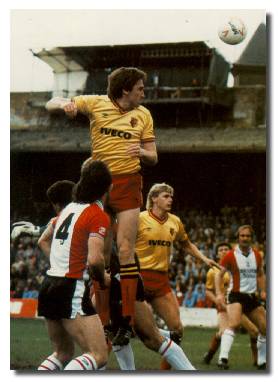 Essex is one of those football wastelands where, in the absence of a high profile team, the kids' affections are harpooned out in various directions. In the case of Chelmsford there was the inevitable North- and East-London contingent (West Ham, Spurs, and Arsenal were all well supported), the gloryhunters (Liverpool), the sons of gloryhunters (Man. United), the nihilists (Billericay Town), the odds'n'sods (Watford, Stockport, Hibs). And there was Ipswich Town.
One Town fan was Gary Fisher... may be a perfectly decent chap now, but at the time he was the kid who never passed the tennis ball to anyone in the playground kickaround, and thought that stating his opinion louder than anyone else made him, by consequence, right.
"Ian Cranson is the best defender in the country" was the claim to nobody in particular one morning. Having just spent the customary twenty minutes between arriving at school and the reception bell being passed to not at all by said individual, I was wound up enough to retort : "Every club in Division One has a defender better than Cranson". "Oh yeah?" - (guffaw, snort) - "Who have Watford got then?". "John McClelland". "JOHN McCLELLAND!?!" (with an annoying sneer only those who've been to secondary school in Essex will recognise).
John McClelland didn't look like a footballer. At six foot two and over thirteen stone you'd have put him as a lower division centre-forward, or possibly in goal, but the word "deceptive" was invented for Macca. Even when he was running, in his distinctive loping gallop, he didn't appear to be moving terribly fast until you put him in a one-on-one with the opposing forward. Then, he didn't seem to be pumping his legs particularly quickly... he just operated in a completely different dimension to everyone else. He passed through the air more easily.
Macca joined the Hornets in November 1984, the second of two inspired signings in that period (Tony Coton was the other), aimed at shoring up an extremely leaky defence. Arriving from Rangers (who later tried, and failed, to resign him), he became the first player to play professionally for clubs in all four of the home nations.
My memory of him has undoubtedly been smoothed by time... only Gary Lin*ker's occasionally replayed goal for England against Northern Ireland ever serves to remind me that he was anything but perfect. A commanding captain, powerful in the air and devastatingly quick, he was picked to represent the Football League against The Rest of the World in the League's centenary match (alongside Paul McGrath, not Ian Cranson, as I was quick to point out to Gary) and then again as the only member of that team to represent the League against their Irish contemporaries a few months later.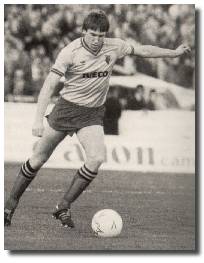 Like Coton, McClelland stayed with the Hornets into the Second Division. A main factor behind us not dropping out of sight in our relegation season, Lennie Lawrence, then at Charlton, claimed in exasperation that McClelland, whilst an excellent player, had been made to look world class by his inept forward line... once again McClelland's appearance had given him a psychological head start.
Macca joined Leeds in 1990 and eventually played in Scotland for St Johnstone where he also had a spectacularly unsuccessful stint as manager. He was injured early in his Leeds career, and was often seen at Vicarage Road on his crutches. He is now, apparently, doing guided tours of Elland Road. My last memory of seeing him on TV was for Leeds in a Cup tie. By this time his bulk had grown to remarkable proportions, and some inconsequential commentator whose name has escaped me far more readily than Macca's made a deal of pointing this out as the Ulsterman huffed and puffed after a striker chasing a long punt over the top.
He still got to the ball first, though.