Players: Tributes:
David Bardsley

"Sansom in knots"
By Matt Rowson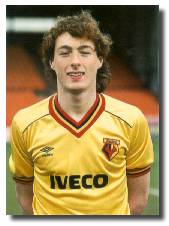 It's one thing to make a mistake.
Even to make mistake after mistake, to systematically destroy an exciting team, to turn creative midfielders into killing machines, could (generously) be regarded as misjudgement. What sticks in my throat is how as recently as 1995, Dave Bassett expressed disdainful disappointment in the reception he received at Vicarage Road. Well bloody sorry Dave, but look at the team you took over and look what's happened since... it's hardly all your fault, but you were one mother of a catalyst.
Typical in the list of charges was the sale of David Bardsley to Oxford for £250,000. A young exciting wide player, the disposal of Bardsley was as baffling as it was disappointing, and even at the time through my perpetually gold-tinted (metaphoric) spectacles Bassett's worm had turned... the honeymoon was over.
Bardsley was signed by Graham Taylor from Blackpool early in the 1983-84 season as a replacement for Pat Rice. He spent a year at right-back, incorporating an appearance at Wembley as a nineteen year old in 1984 as part of that ridiculously young defence (lest we forget, Steve Terry was, at 21, the veteran). Then an injury in training led to his losing his place, and the number two shirt was eventually adopted by another youngster, Nigel Gibbs... wonder what happened to him!
The next year was spent largely in the reserves, until Bardsley re-emerged at a sunny Loftus Road in the number four shirt, and began his midfield career. The 1986-87 season which followed was indisputably his finest, but incredibly his only full season in the first team. Even then he didn't make any position his own, switching between right back and right wing (where Nigel Callaghan had finally exhausted patience), and even centre half.
He will probably be best remembered by Hornets fans for his performances in the Cup run of that year... an astonishing display against Chelsea at Vicarage Road in the fourth round was surpassed in the Quarter Finals at Highbury. In arguably the finest Hornets performance in living memory Bardsley, on the right wing this time, stood out... Kenny Sansom must still wake up in the night trembling at the memory of Bardsley charging at him, hair flowing, and skinning him again and again.
Then Bassett arrived with his steam roller. Bardsley joined Oxford with Richard Hill and enjoyed a successful few years there (including a Player of the Year Award and the obligatory goal at Vicarage Road) before moving on to Q.P.R.. During his nine years at Loftus Road he was awarded a full cap by the same man who spotted him playing for England's youth team, Graham Taylor. His free transfer this summer at the age of thirty-three, albeit following serious injury, has deprived him of a testimonial season... once again a victim of circumstances.
Good luck, Dave. Your hundred games for Watford will always seem like four hundred in this fan's mind's eye.
Now, let me enjoy that memory of Kenny Sansom in knots just one more time...