Fanzine reviews:
Mags and fanzines:
Look at the Stars
(A Watford fanzine)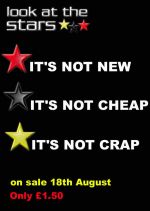 A tense moment....

After I'd promised to review the first issue of "Look at the Stars", I received a nervous email from Colin Payne, its joint editor. Something had just occurred to him - "What if you don't like it? You know what a high-principled bugger you are, could you praise something you didn't rate?".

In a way, he was right, because there's little that I hate more than reviews that are actually adverts. And I am a "high-principled bugger". He needn't have worried, though. "Look at the Stars" is absolutely mighty.

Bearing in mind that it's the result of two excellent, well-established fanzines - "The Yellow Experience" and "Clap Your Hands, Stamp Your Feet" - joining forces, you'd expect it to be a fine thing. That there are additional contributions from the best unofficial websites too, including BSaD and "A Big Watford Love", does it no harm. Nonetheless, you can't help but be stunned by its sheer, walloping size and relentlessly high quality.

Verily, this is the "Shoot" annual of fanzines. It's vast, all-encompassing...and yet also a perfect reflection of a moment in time. It seems that every aspect of the summer is here in this first issue. As you'd expect, that means thoughts on saying farewell to GT and welcoming GV. But it also involves the Italian tour, Clint Easton at Fakenham, Luther and Kenny playing at the Vic for one last time, Tommy Mooney, player profiles, the results of the annual Clap awards, and a whole load of other stuff.

What else? Oh, a real Generation Game conveyor belt of goodies. Barry Endean, Kyffin Jones' genius Robbo diaries, cartoons by Vince (if for no other reason, you should buy a copy for the priceless back cover), Ray Bloom, Neil Warnock...and, indeed, the Generation Game itself. In the circumstances, the suggestion that it's "not cheap" seems rather inaccurate. For a mere one and a half quids, and fifty pence less than you'd have paid for both fanzines last season, this is an absolute steal.

It's not only comprehensive, though. At its heart, "Look at the Stars" is about writing that's intelligent, level-headed, imaginative, witty, and touching. Personal writing, about people and places as well as matches and results. It carries a real sense of documenting history from a supporters' perspective, and it's hugely readable. It is everything that TYE and CYH were, and then some.

A real joy. Long may it continue.
Price: £1.50