Reviews:
Books:
The Golden Boys
Oliver Phillips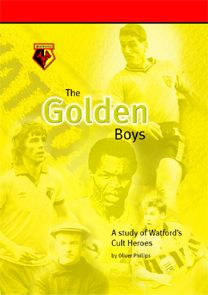 In a way, one can't fail to do "The Golden Boys" something of an injustice by reviewing it so soon after its publication. Oliver Phillips' latest trawl through the club's history deserves time and requires patience...although less time and patience than it must've taken to research and write such a mighty volume, certainly. One feels that it needs to be left on the shelf and checked occasionally, allowed to mature like a good whisky.

Of all its photographs, the one that accompanies the introduction is perhaps most telling - Oliver Phillips and Trefor Jones in the mists of Vicarage Road Cemetery, on their own quietly romantic voyage of discovery. This is writing about football...but, more than that, it's writing about people, about the town, about local history. While it is, thankfully, not as academic than its sub-title ("A study of Watford's Cult Heroes") suggests, its tone is still far quieter and less dramatic than we have become used to in the sport's current booming (in all senses) climate.

As you pick out chapters that appeal and make mental notes of others that deserve future attention, it takes a while for the true purpose of "The Golden Boys" to emerge, for it to come into full focus. It's when Phillips writes about the players that he has been closest to (whether as a fan, a journalist, or a friend) that the book really emerges from the shadows. Then the penny drops and it all falls into place...for, as a companion piece to his "Official Illustrated History", this is both invaluable and vastly pleasurable.

There, history dominated, events were detailed. Here, in more informal surroundings, personalities are allowed to come to the fore. Where the "Official History" told us what people did, "Golden Boys" tells us who they were and, sometimes, why they did it. Whether it's Tommy Barnett or Ross Jenkins that you're too young to remember, there are warm, revealing portraits here. With the exception of the earliest players, whose details are understandably sketchy and whose chapters are less coherent as a consequence, Phillips not only succeeds in bringing these famous names back onto the Vicarage Road turf for a final encore, but invites them and you for a pint afterwards.

Above all, you're struck by Phillips' enormous fondness for some of the characters, and the book is driven by the desire to ensure that their place in the club's history is filled by more than mere statistics. He succeeds admirably. In the case of Tommy Barnett, for example, the name is familiar enough and the bare facts of his career are available...but the man, so humble and self-effacing and charming, is unknown and would've remained so. His mini-biography, paired with that of Arthur Woodward, is especially touching. Quiet voices that need a quiet book to be heard properly.

Elsewhere, there is a splendid sense of past players returning to action, something that was impossible in the packed chronology of Phillips' previous book. At last, Stewart Scullion is afforded enough time to dribble and trick his way into a vivid mental image, with Duncan Welbourne waiting behind to "look after" the winger in the event of rough treatment from the opposing full back. Phillips' genuine affection for his subjects is enhanced by their own input, which often raises a chuckle. My personal favourite is Welbourne's comment about Scullion that "I didn't have to overlap him too often because he'd do that, overlapping himself". For someone who never saw him play, it's a lovely picture. The same applies to the author's comment on Cliff Holton that "his shooting was not so much powerful, as violent".

In its coverage of more recent heroes, "The Golden Boys" offers few revelations...although, that said, the chapter on Luther Blissett is a stark, almost shocking reminder that the decision to get rid of such an extraordinary ambassador and growing coaching talent will not be included in any future "The Golden Moments" book. Really, though, these sections belong on the shelf for years to come. Because you will need to bore your grandchildren with stories of Luther Blissett, Ross Jenkins, John Barnes, Tony Coton, John McClelland, Nigel Gibbs, and Tommy Mooney. You know you will, so here's your source material when the time comes.

And that is why "The Golden Boys" appeals to me, why it feels like a good book as well as reads like one. In these pages, there are as many different characters and backgrounds and motivations and opinions and stories as there are heroes. Some have long faded, some are still fresh...but each deserves to be remembered by more than numbers, now and in the future.

Without making a great noise about it, "The Golden Boys" ensures that it'll happen.

Ian Grant

"The Golden Boys" is available from the World of Watford in the Harlequin shopping centre. Call 01923 229859 for more details.