Watford 'til I die
CD Order Form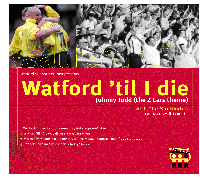 The Watford 'til I die CD is the latest fund raising effort by the Watford Supporters Trust - the third largest in the UK - and consists of an instrumental arrangement of the Z Cars theme played by The Soulmates a nine piece band that includes several season ticket holders and Supporters Trust Members. The keyboards player and arranger Geoff Wicken also won the competition to write a lyric for the tune in which more than thirty witty, imaginative and almost entirely printable entries were judged by the Trust board, WFC, Watford Observer and Watford's Mercury 96.6 to produce a short list of three. The public vote was clearly in favour of Watford 'til I die which has now been recorded as the second track on the four-track CD.
Local DJ B'jammin from Area club in the High Street came on board to produce a match day Megamix with commentary and crowd effects and the Copa de Ibiza mezcla especial that proved such a hit in Ibiza.
The disc pack contains the background to the original Johnny Todd folksong on which Z Cars is based, the competition winning lyric and information about the activities of the Supporter Trust. It's another thoroughly professional production demonstrating again the depth and variety of talent in the Watford Supporters Trust.
To reserve your copies of the CD, please fill in the form below and then send a cheque for £5.50 per copy (including P&P), payable to Watford Supporters Limited to Watford Supporters Trust C/O 108 Woodyates Road, London SE12 9JL. If you have any questions, please send an e-mail to Mike Raggett at zcars@bsad.org.