Articles:
Players:
Pete Fincham interviews Nigel Gibbs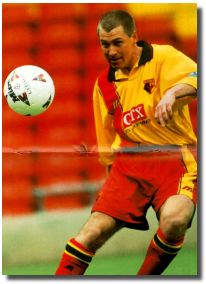 Nigel Gibbs is the player who has dominated the Watford number two shirt for over a decade. Awarded a testimonial over half a decade ago, Gibbs is on the verge of becoming the second highest appearance maker in Watford Football Club's history. He has seen off many challengers to his shirt, and despite missing nearly two years of football with a set of serious injuries as well as being released by the club in 1996, Gibbs has been an inspirational member of the side so far this term. He is currently recovering from a broken toe sustained in last week's historic win at the Reebok stadium, but is eager to get back into contention for a first team place.
In this interview, Gibbsy lets us into many of his thoughts on the game, as well as a few anecdotes about his lifetime's service to Watford Football Club.
Nigel, first of all, thanks for doing the interview, which I believe is the first player interview BSaD has done.
No problem, Pete, as you know I have been reading BSaD since I got the computer and always like Matt Rowson's match previews!
So, onto business....
What does being part of Watford Football Club mean to you?

Being at a club you supported as a boy is a dream come true for fans all over the world. I'm lucky; it's a great club but also a unique club and this has been lost over the years by "outsiders" but with GT coming back it's beginning to return. It's good not having to move away from your family and friends which obviously happens when you move clubs. I have had the chance to leave for the benefit of my career in the past, but it never happened for many reasons. When I heard clubs were interested in me I was under contract and the manager at the time wouldn't sell me so there is no way I could go. This happened a couple of times. Then the club released me as everyone knows at the end of the 95/96 season which was the worst time of my career. This was the time I didn't want to leave at all as I was injured and seriously considering retiring because no club would sign me injured. I wanted WFC to give me time to get fit but they wouldn't. So I gave it one more go through the summer, got fit not being paid and eventually got a month to month contract at WFC. The rest you probably know. I now want to finish my career at WFC because I don't want to move away from the area - I like where I'm living and I'm planning for the future. Plus I want to help WFC get promoted of course!
Throughout your career, and most pertinently since you got over the horrible knee injuries you got in the early 1990s, you have been one of the most solid and committed players in the team. But we are always being reminded on television of the rough side of the game, and the intimidating nature of certain players. Have you been scared of a player?
I haven't been scared of a player but there are certain players you are made aware of who will try and hurt you if they get the chance. My first experience of this was a player called Billy Whitehurst, ex-Hull, Newcastle etc., who elbowed people for fun and seemed to get away with it or went over the top on tackles with the ref not even booking him while team mates and opposition knew it was a bad tackle. There's the odd player today like Billy but in today's football it's very hard for these type of players as there are TV cameras everywhere. The players who wind you up are the players who cheat, and these guys are really hated. You just hope the refs can tell if a player dives, feigns injury etc. I was lucky TV evidence helped me to turn over a sending off at Reading a few years ago and I believe TV evidence should be used more to help players wrongly booked and sent off. They are quick to punish players caught out on TV but not by the ref.
But the game has changed now and even though you are often in the Wing Back role, scoring has not really been your speciality over the years! Was it ever, and what do you think of the current trend in celebrations?
I hope to score two in a game before I retire but I'm not holding my breath! I did actually score two in a season a few years back against Darlington in the old League Cup so it has been done. I was always scoring goals up until I signed pro for WFC because I played midfield then and had more chances to get forward. I've scored a few in the youth and reserves over the years but nothing to write home about.
I quite liked my nose bleed celebration last year, that was very original. Darren Bazeley's are normally quite good and I thought Ian Wright's the other day was funny and topical. There are so many to choose from I can't really say which one is the best, so I'm going for mine!!!!!!!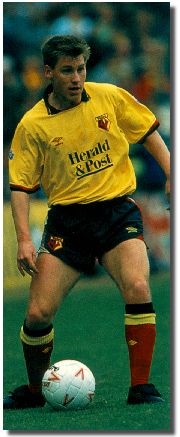 The crowd at Watford, like anywhere else, is often quite fickle. Over the years we have handed out our fair share of abuse to home and away players alike. How do you and other players react to the crowd, especially if you have had a bad game?
I think every player wants to be liked by the fans, I don't know any player who deliberately plays poorly and does not try. There are players who give the wrong impression but they still want to win. I understand the fans' point of view, I'm one of them. With me, the WFC fans have been great - even when we both know I've played badly, they know I've given 100% so I don't mind the odd comment or boo.
Well, booing a player if he has had a bad game is one thing, but we can often take defeat hard; we've got this chap called Rupert on the list who believes in tarring and feathering the squad if we lose! That way he suggests you would all be too scared to lose! How do you react to a defeat?
Whatever people think, no pro likes losing. I've never played with anyone who hasn't wanted to win and I am not good at losing, but you have to learn to cope. It does ruin your weekend and also the week's training but you get on with it. Every player shows their disappointment in different ways but I find it hard to take when players go for a night on the town when we've lost. I couldn't and wouldn't do it. If it helps them to get over defeat better by having a few drinks, good, but an all nighter, I'm not so sure. At WFC we've got a good bunch of lads at the moment and with GT in charge everyone knows the club rules !!
When you are losing, how bad are the famous GT verbals?
We don't have to be losing to hear GT's verbal blast at half time!!!! That is his strength as a manager - when to tell us off, when to say we're doing well and when to make changes. That's when the manager earns his money. GT is first class at that. You will probably have read he has occasionally thrown the drinks around at half time - well, I'm not saying whether it's true or not. What I will say is I always cover my clothes with a towel before I go out to play !!!!
So GT is tough, in which case there must be a joker. Who's that, then?
Steve Harrison was the funniest person I have worked with. I can't tell you about his worst practical joke because it's rude!!!
And that was before he went to Millwall!!!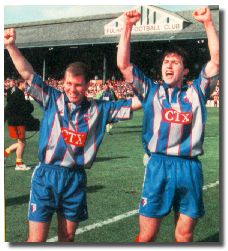 We have already alluded to the changes in your game with the introduction of the wing back, but what have been the most significant changes to the game that have occurred throughout your own football career, and how do you think you have adapted with them?
The game has changed a lot over the years with the biggest change being the pace at which the game is now played. There is no respite. The ball is in play longer mainly because of the back pass rule. The other major change is the fitness of the players. You have to be very fit with all the games we play and at the pace they're played at.
How have I adapted? I have played over 450 games and I think I have learnt a lot in that time. You learn to adapt to different styles and systems as they emerge and I think if you're good enough you will be able to adapt. People have had a myth about me not getting forward but if you look at it in my early days I had Cally in front of me, who was probably the best right winger in the country at the time. He spent the games just putting in crosses for fun; why did anyone want me to cross the ball?!? Later years were spent defending most of the time because, as you know, we had some pretty crap teams full of crap players so I couldn't get forward that much!!! Now it is part of my job in the team to support and supply the forwards and I'm really enjoying it. I still think my strengths are defending but I'm enjoying playing further up the pitch so I can get crosses in and set chances up for the forwards and hopefully score a few more goals.
Winning something last year was possibly as good as it gets, but weren't you gutted in 1984 about not making the Cup Final team?
I was not annoyed about missing the Cup Final because David Bardsley was always going to be fit. To be in the squad at my age and be part of the build up was great for me, I really enjoyed it. The only thing I didn't enjoy was the result.
The Murdoch empire through Sky! The unstoppable price rises! All features of the modern game - how do you see the game going in the next few years?
The football's good, the gates are up and the game is still the country's favourite sport. Will the bubble burst? Not if Sky still pump the money in. The big clubs are all run as businesses with some as plc so supporters will find it hard to have any input into these clubs. My concern is for the supporters of teams in Divisions 2 and 3. Will they be able to survive as the Premier grows even bigger; I fear not, unless they start to filter some of the money coming into the game down to these clubs. The next five years will be interesting for the fans. Will there be a British league, European league, Premier 2, Div 3 North, Div 3 South or part time clubs in Division 3? Only time will tell.
If you go around Watford on a Saturday you often see a few of the lads out (of it!). Who's the biggest lightweight in the squad?
I don't know who is the biggest lightweight on the beers because I'm teetotal. That doesn't mean I'm boring, but it's my personal choice and I'm happy about it. There are a few lads who enjoy a beer but I don't know who is the biggest beer monster - maybe you can tell me after you've seen them out in the town on a Saturday night!
Drinking is one thing, but Steve Palmer, what does he reckon to the 'Smoker' songs? Do you have any opinions on the chants that you all get lumbered with?
I think Steve was a little bit embarrassed by the chant at first because it doesn't really go with Steve's personality!!! Now he enjoys them. I think they are very witty. I like most of the chants - I think the one about Jason Lee at Barnet last year was brilliant, captured the moment and Jason thought it was good as well. Paul Robinson, Johno, Micah and Peter Kennedy, the one to 'Candle in the Wind' that hasn't really taken off, are original and good but any chanting of your name gives the players a buzz and also confidence the fans appreciate them.
After the Sheff Wed game last year the lads started singing 'g.i.b.b.o' like 'd.i.c.a.n.i.o' because I played him so well but any Nigel Gibbs chant is fine by me. Maybe you could think of one with the nose bleed in it?
The atmosphere in the squad is great. The team is on the up; but for the fans the David Connolly saga still is quite painful. I mean, how could he leave such a great club in the way he did?
I don't know the ins and outs of the David Connelly saga, no one does - all I know is we lost a good player for nothing. The club lost out on maybe a £1 million deal, so in the end the team suffered. David had his reasons to go. I'm not taking sides but if anyone in their own industry was given an oppurtunity to go to a bigger job, be financially secure for the rest of their life, could they turn it down when it came to the crunch? This happens all the time in football and in life. Sadly the fact is there's little loyalty in anything these days.
Cliché time! Having made your debut almost fifteen years ago to the day, you must have got some pretty cool memories. Care to share any?
Memories, that's what it's all about; there's nothing better than sitting down watching and talking about great victories with family and friends. After waiting for so long to beat L*t*n, to win in the manner we did will stay with every player and fan for ever. I was so happy. Being from St Albans, half my family are Watford and half are L*t*n so you can imagine what it's been like over the years. NOT ANY MORE.
The Second of May will stay with me for the rest of my life because it was the day I won my first medal. I can't begin to explain the feelings because I wouldn't know how to begin!! No one can take that away from you and nobody can buy the feeling of achievement and satisfaction you feel. It was great for the fans as well, I was pleased for them for sticking with us over the years. The night out after was the best ever and I didn't want it to end so we'd better win something else pretty soon!!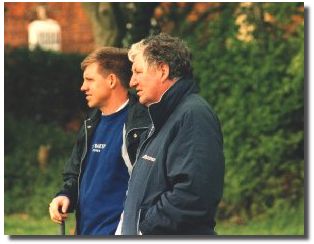 Okay, finally, what does the future hold for Nigel Gibbs?
When I retire I want to become involved in the youth side of the game, whether that's full time or part time. I have actually been coaching at Watford at various ages, under-sixteen down to under-nine, for the last ten years. I've seen the development of some of the players in the first team squad now. My dad, who has also been involved with WFC youths up until the last couple of years, has brought many players to the club with the latest to play in the first team being Robbo. Jamesy and Connnolly are two that spring to mind but there are many more. I would like to do this also so I would be able to put something back into WFC with the experience I've gained over the years as a pro. Also, coming through the ranks and being a Hornet till I die, I will be watching the Golden Boys as well!!!
Thanks for that Nigel and I hope to see you back on the park in a few weeks, once the toe has healed up. Keep reading BSaD and stay Yellow! Watford are the greatest team the world has ever seen, and Nigel Gibbs is as much a part of Watford as the crest on the shirt. May the association continue for many more years.