The Gaffer:
Colin Lee
March 1990 - November 1990
By Tim Lattimer and Chris Lawton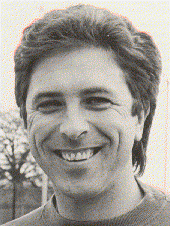 It's a reflection on Colin Lee's time at Watford that his best buy was Keith Dublin. It'd be easy to just take the piss completely (Watford Book of Soccer's the Lee diaries are definitely worth a read), but to be fair to him he inherited a side in decline with our best players already destined to leave. Still it has to be said that his time at Watford was a disaster.

When Lee took over in 1990 our season was already over. Although we put in a few reasonable performances to start with, we were never on for anything more than mid-table obscurity. We ended up finishing 15th, only guaranteeing to avoid relegation with a few games left - scandalous really when you think of the players we had (Wilko, Penrice, Hodges, Coton, etc). One of the first casualties of Lee's reign was Rod Thomas who I always liked, although he was a bit of a stereotypical `promising winger' (looks good but achieves sod-all). Glenn Roeder was also dropped, which was bizarre as he played well for us. Anyway with the new (90/91) season a few changes were made, including Darren Bazeley and David James coming into the side for the first time. The only reason James got into the side was because Tony Meola was refused a work permit, so I think we can be grateful to Gordon Taylor for that one. Out went Hodges and Coton (my all-time favourite Watford player after Digger), obviously having realised that we were going nowhere.

The 1990/91 season was definitely our nadir - I don't think we won until our 12th game in October. Admittedly we had injuries (especially Penrice, who always seemed to be injured, and Holdsworth, whose loss was a bit of a blow) and suspensions, and there were quite a few games where we played well but just couldn't score and ended up losing against the run of play. Still this really was an awful start to the season, and by the time Lee was sacked we were really in the shit having won only two games all season. I guess the best you could say of him is that he wasn't given much of a chance, the worst is that he signed Mark Gavin, Andy Kennedy (in an exchange for Lee Richardson, who wasn't bad) and David Byrne and damn near got us relegated. That season, despite the heroic end to it, really was bloody awful, as we were right down at the bottom with Hull. He really did have to go, and getting Perryman in did give an immediate change of fortunes and relegation was narrowly averted.

Surprisingly he's gone on to have a reasonably successful career in football. He was with Reading at the start of the season when they were doing really well. What happened when McGhee left to go to Leicester I'm not sure, although their subsequent relegation might be a clue. It's difficult to bear a grudge against him in the same way as Dave Bassett, it's best just to look back, cringe, and be grateful that we got rid of him before it was too late. He certainly makes me predisposed to go easy on Steve Perryman.

Bassett's legacy was relegation, Harrison's was mediocrity, but Lee's was complete despair. It's a measure of how far we fell in those few months that every season since then we think we're doing quite well if we avoid relegation.
---
Whilst I agree with some of the above comments, I can never get away from the fact that Colin Lee was just unlucky. He took over a team that was still living on the rapidly fading memory of recent glory. Within a few weeks of taking charge, he had lost Coton (to Man City) and Hodges (to Crystal Palace). Further to this, Penrice got injured at the start of the following season to leave him with a very weak squad and little money to spend. Why? Because, at the same time, Elton John sold out to Petchey so any transfer profit made on Coton and Hodges was lost in the changeover deal.
The new board decided not to give him a chance and sacked him to bring in Steve Perryman on the basis that a big name manager would a) stop the fans leaving in their droves and b) be as good at management as he was a player. On both counts, the board's decision failed. Yes, Perryman kept us up that season but he was fortunate enough that at the start of his reign he got Penrice back onboard and scoring goals - a luxury Lee had to do without.
Why this sudden recall of Colin Lee's time ? Well, largely due to his recent promotion into the Wolves hot seat. Actually, I think he will do quite well if given the chance. It is interesting to note that he may benefit from his previous manager, who signed Guy Wittingham - the perfect foil for Connolly. Perhaps managerial luck comes full circle after a while ?
Best buy: Keith Dublin(!)
Worst buy: Andy Kennedy, Joe McLaughlin
Best moment: Beating Blackburn away for our first win of 90/91, that win over Brighton in his first game.
Worst moment: Losing 3-1 to Notts County at home, I guess, (a game which I missed the entire first half of due to traffic congestion on the M1. Is it true that Dublin scored an overhead kick own goal during this game?) A 1-0 defeat at home to Brighton, during which Andy Kennedy missed an open goal, most other games of the 90/91 season.
Greatest achievement: Under him we never lost a Cup match, or a Luton Derby. Viva Lee!!