Articles:
Always Next Year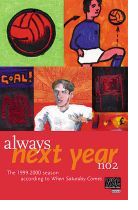 It was a season when the holders of the FA Cup couldn't be bothered to defend their trophy, the holders of the European Championship proved to be even worse than England and the player considered to have done most for football "by precept and example on and off the field" was Roy Keane.

The second volume of "Always Next Year" contains 16 stories from the 1999-2000 season as seen by contributors to "When Saturday Comes". Their accounts range over all four English divisions, the Scottish Premier League, several other European countries and a diner in South Carolina frequented by British taxi drivers.

Includes a revealing interview with Gerard Houllier, the reasons why Sunderland signed a stocky Honduran instead of a glamorous Brazilian and thoughts on a turbulent season in such diverse football cities as Moscow and Exeter.

"Always Next Year 2" is available for £7.99 (inc p&p) from WSC through an exciting variety of communication channels:
Mail:
17a Perseverance Works, 38 Kingsland Road, London E2 8DD

E-mail:
orders@wsc.co.uk

Phone:
020-7729 9461 - 24 hour credit card line

Fax:
020-7729 9417

Carrier pigeon:
(Just our little joke)
For an extract from David Harrison's chapter about Watford, click here.