By strange coincidence, Coventry City are the visitors to Vicarage Road this week-end, as they were two decades ago, for the opening game of the new campaign. The Sky Blues tailed off badly towards the end of last season and finished fifth from the bottom.
Along with The Hornets, City have added new strikers during the close season. Most notable is last season's league joint top scorer, Andy Morrell, who joined from Wrexham. Upfront, Dele Adebola will be looking to use his power against the Watford back four on Saturday (K.OFF 3.00 PM). However, it will be a surprise if Morrell turns out as an injury has restricted his pre-season activities so far.
Manager Gary McAllister has kept his playing staff busy. A four match tour of Germany was followed by games at Oxford and Mansfield Town. The high point of City's build up was defeating Midland rivals Wolves, 2-1 at Highfield Road last Saturday. This has led to renewed optimism from supporters and the team will arrive in a confident mood having defeated Wanderers in some style.
On the same day Watford were on the receiving end of their first defeat in the warm up fixtures. A solid looking Wycombe Wanderers fully deserved the spoils from a game played in a heatwave. At one a-piece, it looked destined for a draw until Alec Chamberlain's uncharacteristic error allowed Darren Currie to clip the ball into an empty net to claim his second and the eventual winning goal.
Watford's new recruits looked fairly sharp, Danny Webber, featuring in his first pre-season game, showed some good touches before being replaced at half-time. Webber laid on the equalising goal for Bruce Dyer who finished from close range after the former Manchester United youngster had skipped round the back of the home defence. The news that Jimmy Davis will miss the opening game is a blow, but Jimmy should not be out for too long with a groin strain. Also absent on Saturday will be regular left-back Paul Robinson who has a suspension carried over from last season. Gavin Mahon looks set to fill the void.
Local defender Jack Smith featured at left-back against Northampton Town but was conspicuous by his absence at Wycombe on Saturday. Elder brother Tom was also absent from the club's press/photo shoot day held at Vicarage Road on Monday and without a squad number at The Vic, a move to The Valley looks to have been put on ice with Tom picking up a calf strain in training.
These are very difficult times for a number of professional footballers, but I am sure that given the opportunity at another club, if it's not to be at Watford, Tom can bounce back from recent career setbacks. As a goalscorer, his record is fair, in so much as Tom scores important goals at vital times in games and it is unfortunate that Ray Lewington has elected to play a 4-3-3 system, which suits the Berkhamsted based striker, without including Tom in any plans whatsoever.
Obviously, decisions have been made and these may have been forced on the manager by Tom electing not to sign a greatly reduced contract (would you?). Whatever may, or may not materalise, good luck to Tom.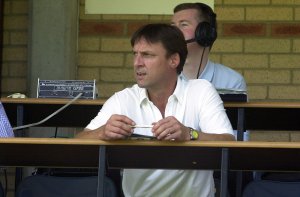 Slightly older, but nonetheless hailing from the Potern End and a former Watford striker is Maurice Cook. I bumped into Maurice at the recent Berkhamsted / Colchester United fixture down at Broadwater. "Cookie" is in great shape and we watched as several Berko' newcomers along with players from last year put in a spirited display against United, a deflected second half goal giving the Division Two outfit a narrow and undeserved victory. Former Hornet stars Steve Terry and Neil Price also took in the game.
So the big kick-off looms all around and The Hornets finished off their pre-season games by entertainig Chelsea at Vicarage Road on Tuesday night. The game was played in front of over 18,000 eager fans, and Chelsea proved just exactly what a nice few quid can achieve.
Over to you, Gianluca?
20 Years Ago
In the charts
"Where ever I lay my hat" from Paul Young
Football League Division One
Watford 2 Coventry City 3
Sherwood. Rice, Terry, Sims, Bolton. Callaghan, Taylor, Lohman, Rostron. Barnes, Gilligan.
Sub, Jobson.
Scorers, Barnes and Jobson.
Att;15,551.
Reproduced courtesy of Gazette Newspapers
Photographs by Malcolm Armstrong