Nationwide Division One, 28/02/04, 3.00pm
Watford
versus
Franchise FC

Wombling free
By Matt Rowson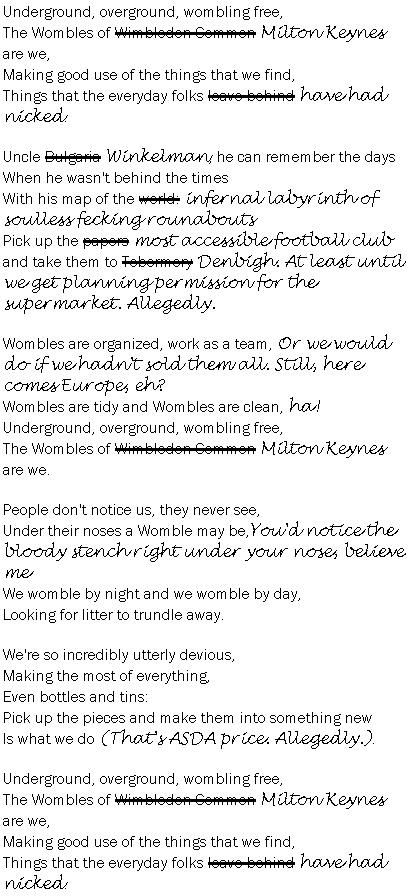 * * * * * * * * * * * * * * * * * * *
Not any more, as it goes. The owners of the Wombles brand refused to renew their licence agreement with the Franchise when it expired in 2003, not wanting to be associated with the rather sordid uprooting of the club to Milton Keynes. And quite right too... Uncle Bulgaria would surely have approved.
Saturday sees what will hopefully prove to be our last encounter with this rather smutty excuse for a football club. It ought also provide us with our third consecutive victory... the first time since October 2002 that we'll have strung three league wins together. Which may sound rather presumptuous; two wins, after all, don't suddenly turn us into a side that can take things for granted.
But the Franchise was struggling adrift at the bottom of the table before the turn of the year, since when five players have been moved on - Jobi McAnuff, Nigel Reo-Coker and Adam Nowland to West Ham, Mikele Leigertwood to Palace and Patrick Agyemang to Gillingham. And when you strip five players that other First Division sides actually want to buy from a side that's a long way adrift at the bottom, you're not left with an awful lot. The Franchise have lost their last five league games, and none of the existing squad have scored a competitive goal since Boxing Day.
Steve Banks is a rare familiar face in goal... rare also in providing some experience to a side that fielded only four players over the age of twenty-one against Coventry at the weekend. Paul Heald is out with a knee injury, so Lee Worgan is likely to be on the bench.
At the back, Jermaine Darlington at right-back is one of few old-skool Wimbledon players still involved, although for how much longer seems open to speculation. The attacking Malvin Kamara is a popular alternative having impressed in his half-dozen starts so far. On the left is the son of a familiar father Dean Lewington, establishing himself at full back but sent off at home to Coventry last weekend.
An alternative at left back is Peter Hawkins, but Lewington's form has led to Hawkins being employed either at centre back or, less successfully, in central midfield. Hawkins is another survivor from the Wimbledon days, which kind of tallies with the "worst professional footballer I've ever seen" verdict of one Watford supporter after an encounter a couple of years ago.
The moving on of so many players in January led to the Franchise's transfer embargo being relaxed by the administrator; Watford old-boy Mark Williams has subsequently joined the club following a spell in the States. However Williams was sent off during a recent defeat to Norwich, and is suspended on Saturday.
The best bet for the centre-back pairing therefore looks like Hawkins and the enthusiastic Rob Gier. German youngster Nico Herzig is also a central defender, but Murdoch seems to be experimenting with him in a target man role following a goalscoring runout for the reserve side. Darren Holloway is another experienced face who could normally feature at the back, but he hasn't played since going off with an injury at old club Sunderland in December.
The departures have left the Franchise particularly weak in the centre of midfield; new skipper Ben Chorley, a former Arsenal junior, and Ben Harding form a solid enough but uncreative partnership. A thigh injury to Harding, however, saw teenager Nick McKoy struggle against Coventry; with Alex Tapp out long-term with cruciate ligament damage and prodigy Lionel Morgan so infrequently off the treatment table that he's only managed thirteen league starts in three-and-a-half seasons, Murdoch's options here are limited.
The Franchise's other recent signing was Jamal Campbell-Ryce, on a month's loan from Charlton. He should start on the right, but he and Wade Small tended to switch wings against Coventry... reports suggest lots of energy but not an awful lot in the way of crosses into the box from either of the pair. The right-sided Michael Gordon is another option here, although he's also been brought off the bench into more attacking positions.
Up front, eighteen year-old Jamie Mackie has shown plenty of enthusiasm but hasn't really looked like scoring in his five starts so far. He'll probably play either with Herzig or with thirty-five year old Dean Holdsworth, leading scorer amongst the remaining squad with three. Holdsworth has tended to start from the bench, presumably for reasons of fitness. Wayne Gray is another option, but has failed to impress on his odd chances in the side despite being a relatively experienced member of the squad having spent four loan spells in the lower divisions. Alain brother-of-Claude Makelele is another striker to have been trialled recently having been released by Charleroi in Belgium.
Rotherham, Burnley, Walsall and Gillingham all have tough-looking away games on Saturday; this is a chance to pull ourselves towards the edge of the relegation frenzy. This Franchise side were comprehensively beaten at the weekend by Coventry... not the worst side in the division, but certainly not the best. No excuses.
You'll have noticed that I've laid off the argument this time... unsubstantiated bile is much more fun, and whatever your standpoint you'll have read and heard the arguments before anyway. Just in case, there's stuff on BSaD here, here and here, and stuff elsewhere here and here...