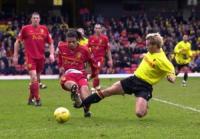 A positive reaction to the defeat at Millwall was asked for and the Watford players responded in the manner of a team with true spirit. Allan Nielsen put The Hornets ahead against highflying Norwich on the stroke of half-time. Watford skipper Neil Cox inadvertantly deflected a free-kick into his own net, but Icelandic striker Heidar Helguson grabbed the points with an injury time bullet header. Heidar now boasts 31 goals in 70 starts for Watford - we do have a 20 goal a season striker, he must be given full opportunity.
Manager Ray Lewington was delighted with the outcome, "We worked really hard and got what we deserved, three points. It wasn't a classic game, to be honest," the Watford boss commented.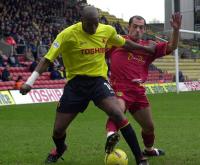 A classic it wasn't but this performance was a welcome return to winning ways, confirming The Hornets as play-off outsiders. New signing Wayne Brown was replaced by Paul Robinson at left-back. Brown has yet to show the form of last season's loan spell. Ray Lewington acknowledged the fact that Wayne had not been given a settling in period before being called upon. It is arguable that Brown's best position is centre-half, an area where Ray now has selection problems of the right kind.
Sean Dyche returned to action in the mid-week reserve team 1-0 win at Coventry City. Sean will be keen to return to first team action. Converted stopper Marcus Gayle has developed his defensive game and become somewhat a crowd favourite in this position. Ray and Terry Burton now have almost unheard of selection problems, a completely fit squad to choose from. With the exception of Richard Johnson who still requires games following his lengthy lay off, the treatment room is empty.
League duties are put to one side this week-end when Premiership relegation candidates West Bom visit( K.OFF 3.00 PM). The Baggies picked up a valuable away point at Leeds in their last game and will view the FA Cup as a break from their fight for survival. West Bromwich goalkeeper Russell Hoult has been hailed as a prospective England number one following several impressive displays. Russell has kept six clean sheets so far and is confident he can reach his pre-season target of ten blanks. Hoult was in fine form during last season's Division One encounter at Vicarage Road, saving a Marcus Gayle spot kick as Albion won 2-1.
The Black country club have sold their full 4,500 ticket allocation so the stadium will be almost to capacity come three o'clock. As underdogs Watford have always managed to pull out a shock and only last season knocked Charlton out of the Worthington Cup on home soil. The tie means a lot to both clubs, in particular Watford, as progress and the possibility of a home fifth round fixture will swell the coffers.
Good luck to the team.
A bit for BSaD: The Week to Beat Corrie By A Street
Is it my age? Is it the Monday evening T.V slot time? Am I not sure of either? Following an enjoyable weekend's football, live and televised, for me, there is something comforting about Coronation Street on a Monday night. Now, don't get me wrong here - I certainly received the slippers at Christmes, but the pipe is a long way away, or in the past, if you were at the same parties! For me, it's Mondays only. Therefore I have this image of the financial "advisor" beating his client over her defenceless head with something that looked like a tool they use in "garages" close to the New Den.
The Watford team escaped from east London in a similar state to Emiley Bishop. Battered, bruised...will she, or more to the point they, ever recover?
For me last Monday was different, as I closed the door at around 6.30, I found myself saying, "Tape the Street for me, please".
"Ok darling," came the somewhat surprised reply.
From home I travelled to the Watford Museum, the opening of Sarah Jones' "Goal-den Years " exhibition. This fine, second exhibition was also the launch of "You Are My Watford", the first of possibly a succession of publications to emerge from the joint fanzines. As a breed of football fans we are in the main an eclectic bunch - one a year and they will sell like "Betties Hot Pot", i.e. once those made have gone, there's no more till next time, lad.
Which by some strange reason, or rhyme, brings me onto Emily and the recovery.
Evidently, following a few day's soul-searching, focusing on what might happen for the worst if your back door isn't locked securely when you are away from home in today's climate, Emily and Watford appear to be on the mend...thankfully. So, next time either are called away for baby sitting duties, we hopefully should witness a different outcome. It's down Highfield Road, you can't miss it...on the left...halfway down. The back door should be locked...and bolted....tight.
20 YEARS AGO
In the charts:
You Cant Hurry Love by Phil Collins
Football League Division One
Brighton 1 Watford 1
Sherwood, Rice, Bolton, Sims, Rostron, Callaghan, Taylor, Jackett, Barnes, Blissett, Jenkins.
Sub, Lohman
Scorer, Jackett

Reproduced courtesy of Gazette Newspapers
Photographs by Malcolm Armstrong