02/03:
Review:
"Clearing the air"
By Martin Patching
First published in the Hemel Hempstead Gazette, 16/01/03
Drawing a discreet veil over the performance at Millwall, except to say that as unusual as it is in football to have all eleven players on form on the same day, it is more uncommon to see all eleven having off days. Such was the sorry case in the Lions' Den last Saturday. Manager Ray Lewington wasted no time in trying to get to the bottom of the problems, calling the squad in for a Sunday morning "clear the air" meeting, followed by a training session. One hopes that it was a freak display and that normal service will resume.
High-flyers Norwich City are the visitors this Sunday (K.OFF 12.NOON) for a televised showdown at Vicarage Road. The Hornets will be seeking to avenge their 4-0 defeat at Carrow Road way back in sunny August. The Canaries, like Watford, are buoyant on home soil, but indifferent on their travels. Nigel Worthington's men are presently sitting in fourth place in the league table. Watford are way down in tenth spot but only five points away, such is the condensed nature of this "dog eat dog" division.
Sheffield United did all concerned a favour on Monday evening by beating the leaders Portsmouth in their own back-yard. All is not lost for the chasing pack. A case could be made for the majority of teams in the top half to be capable of putting a run together, as Sheffield United have, and climbing to a play-off spot. United have done so with a mixture of unrelenting effort, direct football and a certain amount of physical aggression. Now up with the leaders, staying there will be the problem facing The Blades.
On the injury front Sean Dyche is still struggling to shake off an achilles heel problem. The former Millwall stopper has been missed for his leadership and uncompromising play. The new target is a reserve outing in a couple of weeks. Stephen Glass, who has been absent since picking up a knock playing for the Scottish "B" team, was hoping to face Derby County in Wednesday night's reserve game at Vicarage Road. Manager Ray Lewington will be keen for both these experienced campaigners to be available for selection.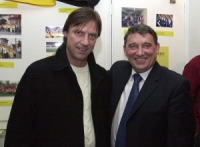 Photograph by Malcolm ArmstrongOn Monday evening I attended the book launch of "You Are My Watford" held in conjunction with the opening of the "Goal-den Years 1996-2001" exibition at the Watford Museum. This is the second such display presented by heritage officer Sarah Jones, the first one covering Graham Taylor's earlier successes at Vicarage Road. The exibition is free and there is also a superb portrait display of the present day squad taken by Jane Parr.
Onto the book, with contributions from over fifty fans including a foreword by Ray Lewington and pieces by Alec Chamberlain and Tommy Smith, there are also several passages from my own memory bank, including what has since been described as a "condor moment". Priced at only £8.00 and with profits being donated to the Watford Supporters Trust, the publication is a must have for any Watford fan.
Nigel Gibbs attended the launch, also Aston Villa manager Graham Taylor and his wife Rita. Graham gave a heartfelt twenty minute speech and as you can see from Malcolm Armstrong's photograph, autograph hunters were also present!
20 YEARS AGO
In the charts:
You Cant Hurry Love by Phil Collins
Football League Division One
Watford 2 West Ham 1
Sherwood, Rice, Bolton, Sims, Rostron, Callaghan, Taylor, Jackett, Barnes, Armstrong, Jenkins.
Goalscorers; Jackett and Jenkins.
24,870
Reproduced courtesy of Gazette Newspapers