02/03:
Reports:
Seagrave Haulage League Premier Division, 26/12/02, 1pm
AFC Wimbledon
versus
Raynes Park Vale

A bit daft
By Ian Grant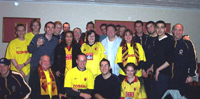 So there we were, a small coachload of Watford fans trundling around the M25 on a rainy Boxing Day, on our way to a match that seemed increasingly likely to be postponed. Revolutionaries? Nah, you can't change the world on top of Christmas dinner. Traitors? Well, only to something - a club loyalty that excludes everything else - that we didn't sign up to in the first place. A bit daft? Oh, hopefully - football is often most enjoyable when it's a bit daft. And, despite plans going somewhat awry, this turned out to be very enjoyable indeed.
We already knew that the match was in doubt when we left Watford Junction, courtesy of relayed messages from the AFC vice-chairman. By the time we arrived at Kingsmeadow, the news had reached us - the game had almost certainly been called off, the pitch rendered unplayable by overnight rain. Bugger.
Ten minutes from our destination, and still considering other options (had kickoff at Loftus Road not been at midday, Steve Palmer, Lee Cook and company would've been in for a bit of a surprise), we opted to continue rather than turn back...and we were greeted by some distinctly stunned looks from those milling around outside the ground. As we made our way towards the nearest bar, the steward posted to break the bad news appeared rather relieved to discover that we'd already been told and were prepared for the worst.
A couple of hours later, we left for home. In between, we'd seen no football and no goals - which, although disappointing, is about par for the course at Selhurst too - but we'd had about the best trip to a postponed game that any of us could remember. No complaints, and no regrets.
I'll stand up for this, anytime. There are obvious points about AFC Wimbledon, of course - the ridiculous attendances for the level of football (an average of 3,081 for AFC's home games, compared to a league average of 260); the ambitious plans for a future, permanent return to Merton; the continued opposition to Franchise FC and the Milton Keynes move, and so on. There's something else, though - I hadn't expected it to feel quite so much like a football club yet. But it does. Somehow, even without seeing the team in action, it rings true.
This is Wimbledon Football Club. Reading through the excellent "Yellow and Blue" match programme, an advertisement for a forthcoming match proclaims that the Dons are "Unbeaten in the London Senior Cup since 1975", while the club's list of honours includes everything from the FA Cup to the Clapham League Championship. A nostalgic column talks to Dickie Guy about a penalty save against Leeds United in 1975, while the Dons Trust page details an impressive list of local community projects. Looking around, the very idea that you could pick it all up and plonk it down in Milton Keynes seems even more ludicrous than ever. It's Wimbledon, nothing else.
After initially settling in the main bar, we're kindly invited into the executive lounge nearby, where players, management and others are enjoying a buffet and bar. And we stay there - picking at food, chewing the fat, guzzling drinks, introducing the good folk of Wimbledon to the concept of half-time lucky chocolate (in the shape of chocolate coins - a success, with the possible exception of the couple who thought that we were attempting to raise money for charity), having photographs taken, and so on - until the general consensus seems to be that it's time to go home.
When we leave, we find Terry Eames, team manager, and Kevin Cooper, top scorer, conveniently positioned by the door to shake our hands, offer thanks for turning up and receive our best wishes. Outside, Kris Stewart, club chairman, is there to do the same. And although we haven't seen any football, we've visited a football club that's welcomed us warmly and, hopefully, we've returned that kindness. It's been fun. I'll be back.
Perhaps it means something different to you. For me, though, all those things - the friendliness, the sense of community, the family ethos, the generosity of spirit, the principles and values that GT brought to us and left behind - remain a vital, central part of being a Watford supporter, as well as a motivation for my continued input into BSaD. Tomorrow, I'll be back in the Rookery, still the same Watford fan as before. Still proud, still committed to the cause, still loyal. Like I say, no regrets.
Long may Franchise FC rot in hell. But more than that, long may community football, whether in Watford or Merton, prosper and flourish. It's our game, after all.