What happened last season?
Indeed, what did happen? This time last year we were looking forward to the return of European football to Portman Road, after a nineteen year break, and consolidating our position in England's top flight with a strengthened squad. What unfurled over the coming 10 months was nothing short of a horror-show. Except for mini-run of seven wins out of eight that began during the Christmas period, Town managed to secure just fifteen points from the other thirty games. The result: RELEGATION.
What were the causes of this dramatic change in fortunes ?, how about the aforementioned Europe, arrogance, dubious team selections, unrealistic expectations, lack of pace, lack of passion, lack of atmosphere, luxury items and Abel Xavier, Heskey, Hyppia & Owen !
Europe: A new experience for a good percentage of the club's fan's, some 13,000 in total travelling to the three away UEFA tie's, but a distraction in the early stages of the season where we struggled to find our league form of the previous campaign.
Arrogance: An arrogant streak throughout the coaching staff and squad with the players believing that, with a fifth place last season, they had the Premiership sussed.
Dubious Team Selections: Some very strange team selections the whole season. Hermann Hreidarsson, a central defender playing as a wing-back, Jamie Clapham a wing-back playing in midfield, Finidi George a midfielder playing on occasions as a striker, and the continued selection of the woefully out of form Jermaine Wright and Matt Holland in midfield.
Unrealistic Expectations: An expectation level from the fans that was wholly unrealistic from the off.
Lack of Pace: The pace completely vanished from our game and the trademark inventiveness and incisiveness of our passing went with it.
Lack of Passion: The team spirit that served us so well during the promotion season and the season that followed had likewise evaporated. Manager George Burley's inability to motivate the player's for a series of six pointers against fellow relegation candidates towards the end of the season was also quite obvious as one 'cup final' after another came and went.
Lack of Atmosphere: The demolition of the North Stand, and the result gaping hole at that end of the ground, killed the atmosphere at Portman Road for the first few months of the season. Away teams played in a far less intimidating atmosphere than they had done in the past few years.
Luxury Items: Did anyone think to ask why Real Mallorca, who had just qualified for the Champions League, were ready to dispose of Finidi George? Scored two or three great goals but anonymous for 99% of the season.
Abel Xavier, Heskey, Hyppia & Owen: Bought our run of seven wins out of eight to a shuddering halt with Town's worst ever home defeat in 64 years of professional football. The six goal's that Liverpool put past us knocked the stuffing out of the side in February and we never able to fully recover from it.
What's going to happen next season?
While the first team were making a proverbial dogs breakfast of their season the young reserve side were the dog's bollocks of the FA Premiership Reserve League winning the Southern Section with some aplomb.
Speculation abounds regarding the future of a number of first team regulars. Keeper Matteo Sereni has returned on a 12-month loan to his native Italy, Titus Bramble has left for Newcastle and pick from Matt Holland, Marcus Bent, Hermann Hreidarsson, Marcus Stewart to make biggish money moves back to the Premiership. But it is the youngsters coming through that give cause for optimism. Former Academy players Darren Ambrose and Darren Bent (30 plus goals for the reserves, first team and England U-21's last season), were key to the Reserves' success, add in the promising first team form of midfielder Tommy Miller, a £750,000 buy from Hartlepool twelve-months ago, and young Danish defender Thomas Gaardsoe and you have the nucleus of a very good side. Which senior player's remain after the August 31st transfer deadline to play with them remains to be seen.
Season ticket sales for the coming season have already passed the 18,000 mark, so the new 30,000 capacity Portman Road will not be as empty as sceptics such as myself had thought once relegation was confirmed. Will we make a quick return to the top flight ? Have we learnt any lessons from last seasons mistakes ?
Already Burley has said that we can "win the Division" (see "Arrogance" above) and we're back in Europe via the Fair Play League (see "Europe" above). Oh Dear !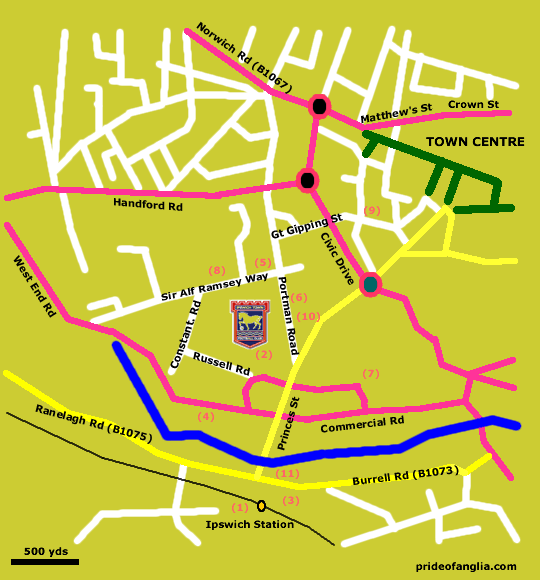 Can you recommend a pub for away fans?
The Drum & Monkey (10) and The Station Hotel (11) are two pubs popular with away fans and are just a few minutes walk from the ground. Both are fairly basic spit-and-sawdust style establishments, and whilst you will have no problems at all in being served, don't expect an overtly warm welcome.
I personally recommend the Black Horse, which again is just a few minutes walk from the ground, and serves a good selection of beers. Provided you don't go in mob-handed you should have no problems being served. If none of these takes your fancy you can head into the Town Centre (10 minutes walk from the ground) where there are a quite a few pubs that may or may not be prepared to serve you!
Directions to the Black Horse (9) pub...
Head north along PORTMAN ROAD past the back of the COBBOLD STAND and the corner of the NORTH STAND until you reach GREAT GIPPING STREET on your right. (Assuming you have not turned around to gaze in awe at the magnificent new North Stand, in which case it will be on your left). Walk down GREAT GIPPING STREET and through an underpass/subway (about 150 yards). As you emerge from the underpass you will see on your left the POLICE STATION. To the right of the Police Station is the BLACK HORSE pub.
Note: There are plans to convert the existing World of Punch club shop, housed in the Cobbold Stand, into a bar for the exclusive use of away fans. The entrance to the bar will be adjacent to the visitor's turnstiles (V1 and V2) but its opening is dependent on the completion of a new Super Store in the new North Stand. (As this stand has been under construction since May 2001, and is still not complete, it is highly unlikely that the new bar will open in time for your visit in December … but you never know).
What's the nearest railway station?
Ipswich Railway Station (1) is, at most, a 10-minute walk from Portman Road (2). When you leave the Station it is nigh on impossible to miss seeing the ground. The new Greene King Stand towers above the rest of the stadium and is a new feature on the Ipswich 'skyline'. After exiting the station head over the bridge opposite which brings you into Princess Street. Continue along Princess Street and take the first left into Portman Road.
Visiting fans are housed in blocks V1 and V2 of the Cobbold Stand (accessed from Portman Road) and, from the start of the 2002/03 season, and dependant on the take up of tickets by visiting clubs, also in the adjacent corner block of the lower tier of the Greene King Stand. If you have the choice of either the Cobbold or Greene King Stand's take the later as seating in the Cobbold Stand appears to have been designed to accommodate those with Ronnie Corbett length legs.
Where is the best place to park?
Street parking is possible but not in the immediate vacinity of the ground. There are a number of multi-storey and other car parks within easy walking distance of Portman Road but they can be a nightmare to get away from after the game. I've been stuck in one of them for an hour-and-a-quarter after matches on more than one occasion. Your best bet is to park in either the multi-story car park next to Ipswich Station (£3.30 per stay) (3) or West End Road (4) car park (pay and display £2-£3 per stay I think) which is also where away coaches are parked. Don't leave it to the last minute to get parked up. Allow yourself at least an hour before the game.
What about Fast Food?
There are a number of fast food stalls set up along Portman Road on match days, all of which are, in my opinion well worth avoiding. There is a McDonald's (7) in Cardinals Park but your best bet is to head along Sir Alf Ramsey Way to a mobile burger bar at the North West corner of the ground (8). They serve a variety of fried foods (burgers, chips, bacon rolls, etc) at reasonable prices and a quality quite rare at football stadia. There are usually a few seats and tables set-up to one side of the van and a large tract of grass to sit on if these are all taken. It is quite popular so expect to queue for five minutes or longer the closer kick-off time approaches. Note this is behind the North Stand, i.e. the home-end, so noisy displays by visiting fans, while unlikely to start a riot, are probably best avoided.
Also worth a look...
The ground is almost unrecognizable since Watford last visited Portman Road. Some £20 Million pounds have been spent on long overdue ground improvements over the past two years. As mentioned above there is the new two-tier Greene King Stand (formerly Churchmans), a new two-tier North Stand and a whole host of other changes. These developments have increased the ground capacity from 22,000 to 30,000.
Well worth a look if you have time before the game are the two statues of Sir Alf Ramsey (5) and Sir Bobby Robson (6). The statue of Sir Alf, unveiled in August 2000, is located at the corner of the North Stand and the Cobbold Stand. That of the newly knighted Sir Bobby, unveiled in July of this year, is on the opposite side of the road from the Cobbold Stand, about half-way along.
Soundbites (from assorted Census correspondents)
"John Duncan would manage this (worst ever) side"
"We've had some bad players but I try to forget their names, not remember them....."
"We want your keeper, not sure who he is, but he's better than ours"
"Simon Milton was Ipswich's most underrated player of all time"
"That George Burley has lost the plot and should be sacked now before it is to late"
"Andy Marshall is shite. Ipswich will win Div 1 by a cantor" (sic)
"Apart from Craig Forrest, the entire 94/95 time were old and past it/ young and rubbish. Glad those dark days have passed...."
"I hate Norwich"